Home
|
Surface Coating & Plating
Surface Coating & Plating
To enhance & optimise the performance of the equipment and components we manufacture, we have latest Surface Coating & Plating Facilities. It consists of Automatic Powder Coating Plant, Spray coating facility, Phosphating facility and Chromium & Nickel plating facilities.
Surface Coating & Plating Machines
Automatic Continuous Powder Coating Plant
Spray Painting Machines
Phosphating Plants
Quality Policy & Management
Quality Management
VIEW OUR QUALITY CERTIFICATIONS
link to view certificates and licenses, put this somewhere on page.
Being certified ISO 9001:2008 and API QR, Laxmi Udyog meets all Quality Standards and have an Extensive Quality Management System in place to ensure all production systems are performing to their maximum potential. Our Quality Management System is constantly striving to improve our efficiency and changes required to meet all of our Customers Specific Demands and Modern Manufacturing Standards.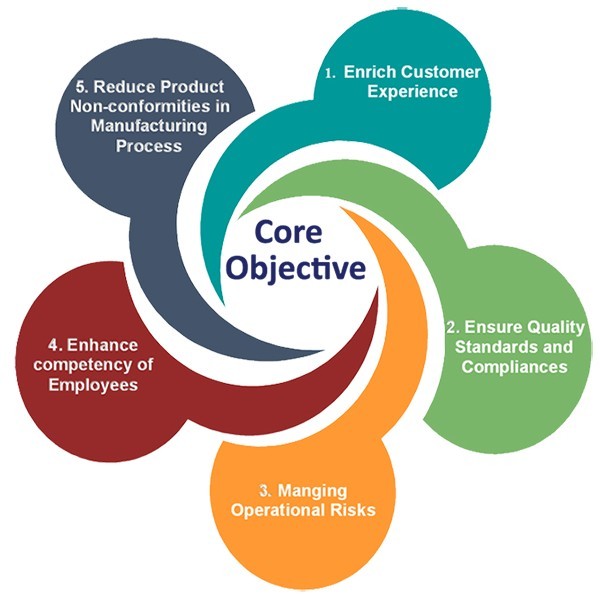 ---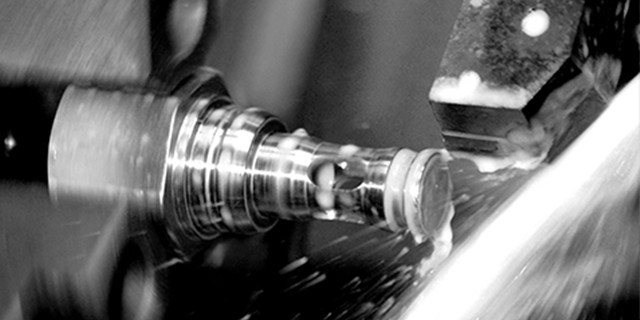 Quality Policy
Laxmi Udyog strives to manufacture High Quality Products and Enrich Customer Experience through Prompt Delivery, Better Product Quality and Response to Meet & Exceed Customer Requirements by incorporating Continual Improvement of its process in conformity to API QR & ISO 9001 : 2008 .
Quality Management & Assurance Standards
Assurance Standards
Since Inception, Laxmi Udyog has always been oriented to comply with Industry leading standards to manufacture world class quality products. The Quality Management and Assurance standards we follow are from below Internationally recognised Standards Organisations.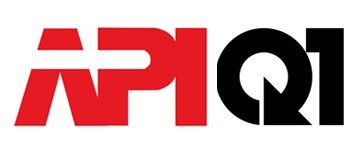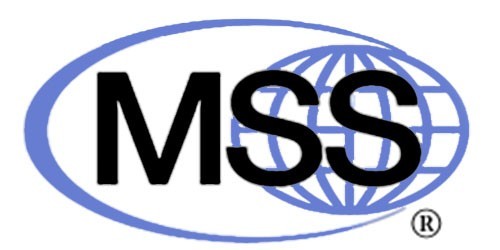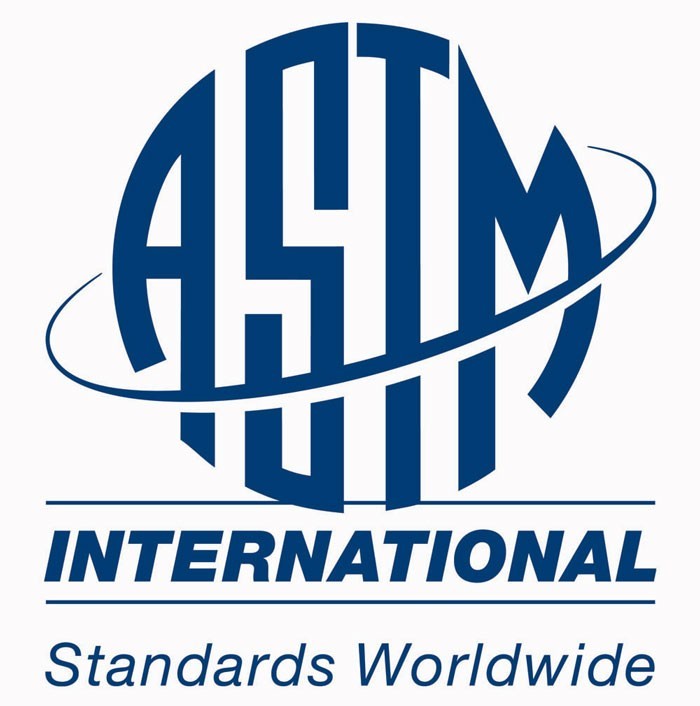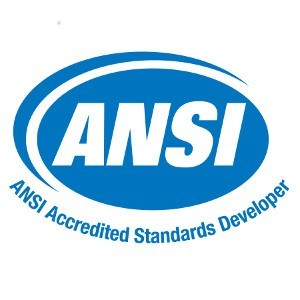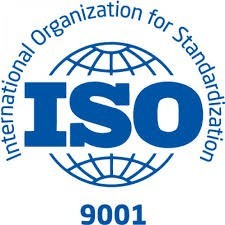 Certification & License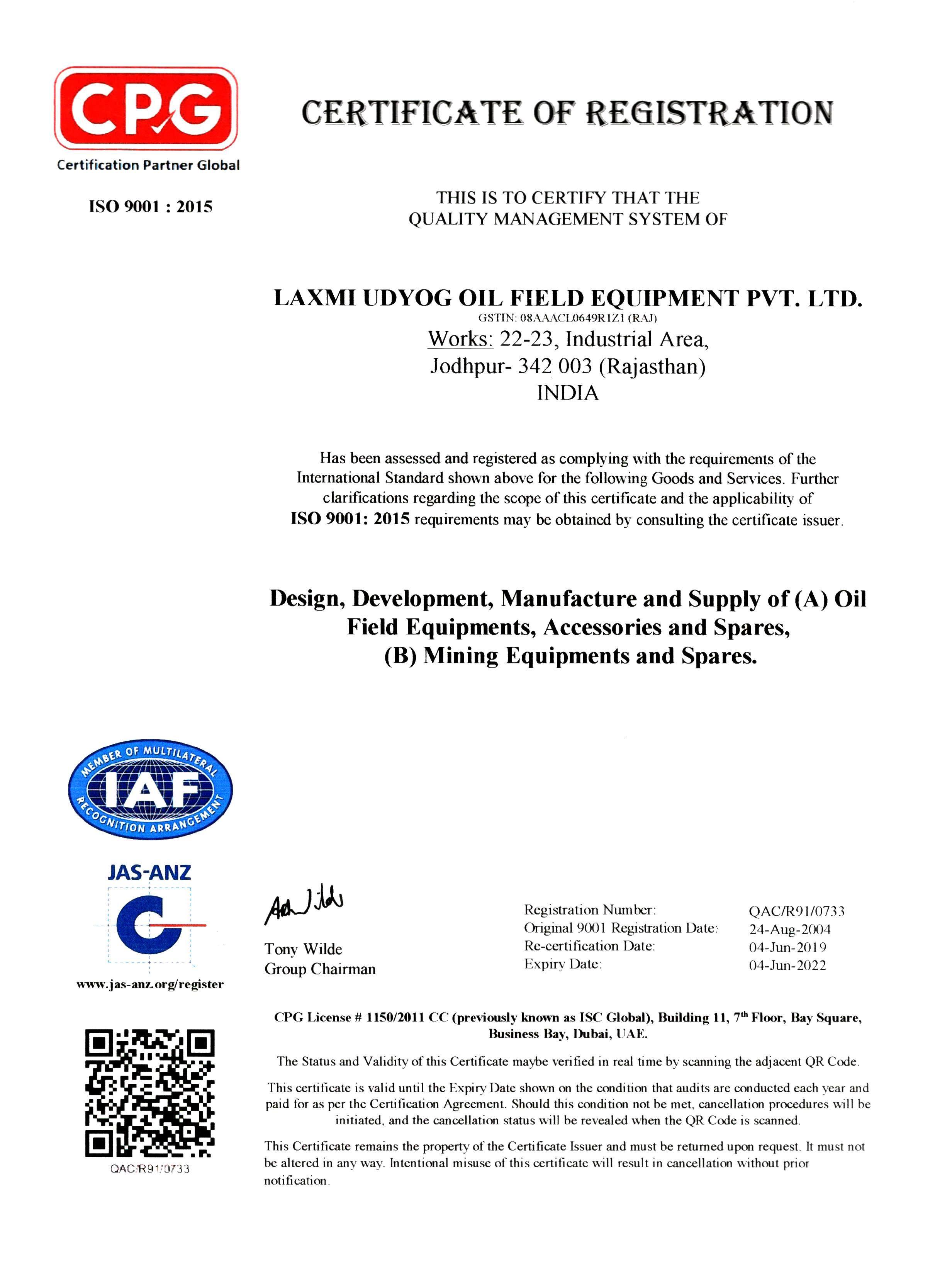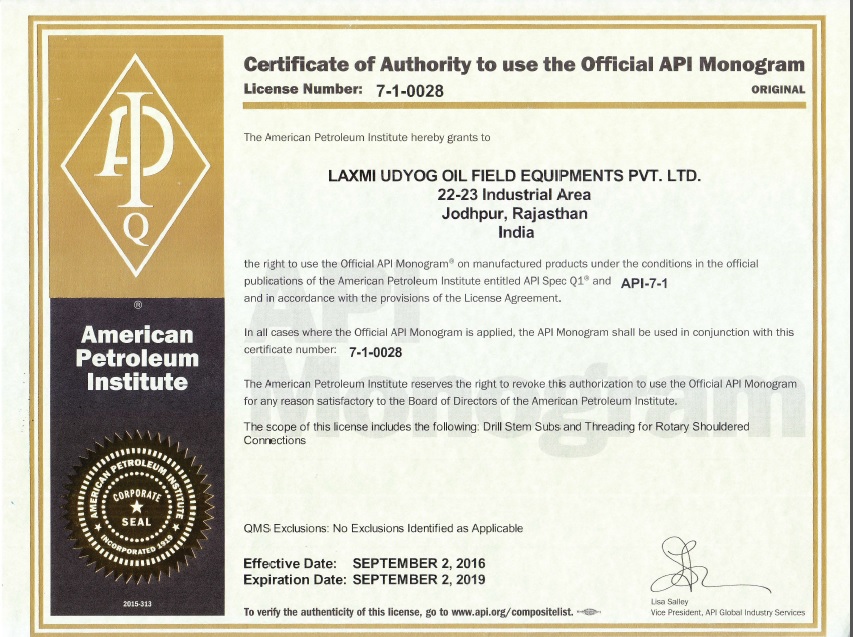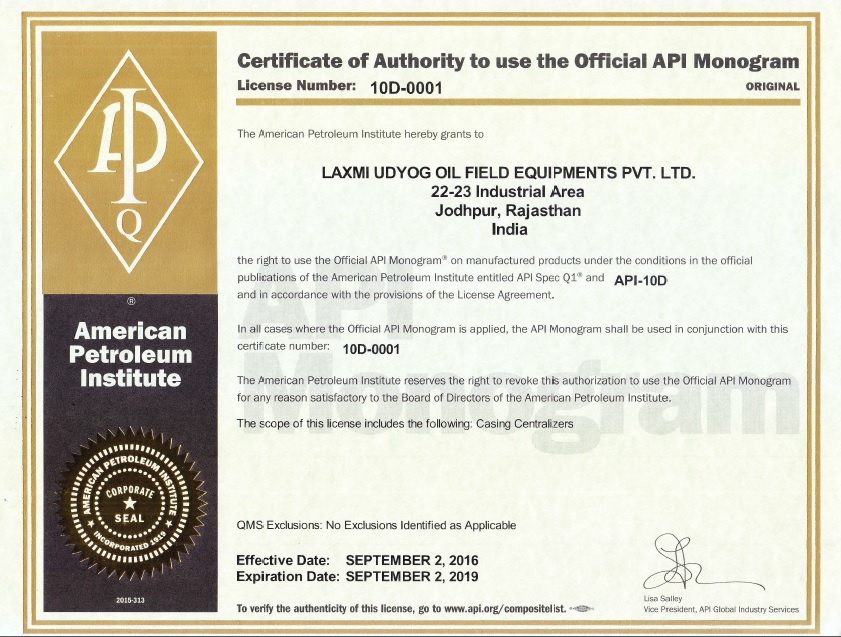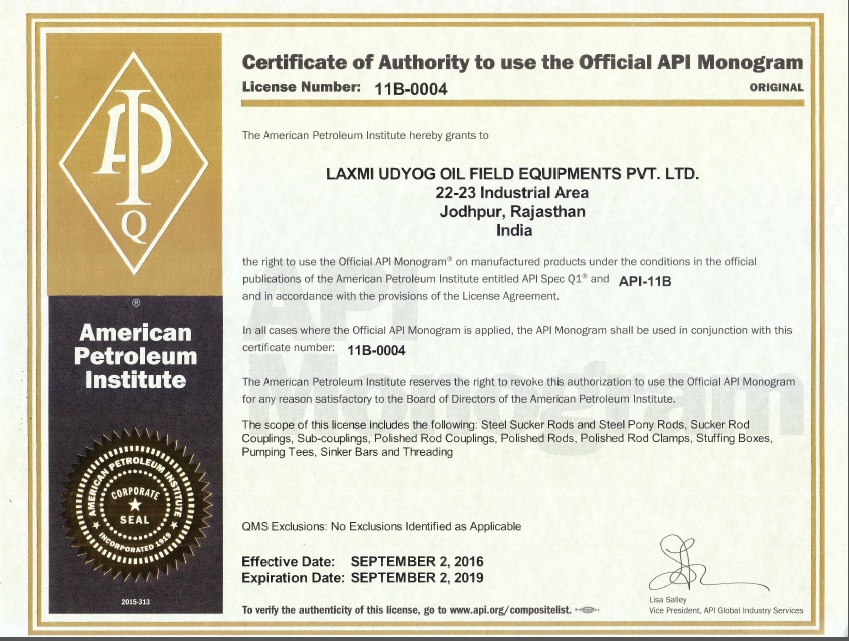 HSE Policy
HSE Policy
We are committed to providing a healthy and safe workplace at every work location and strive to protect the environment in accordance with applicable laws and our Health, Safety and Environmental (HSE) Policy.
Our commitment is based on the conviction that accidents are preventable. In order to achieve this objective, we will identify HSE risks arising from our activities and reduce them to as low as is reasonably practicable.
At Laxmi Udyog Safety Always Matters
Health, Safety and Environmental (HSE) responsibilities are integrated in the way in which we conduct our business. Successfully managing HSE issues is an essential component of our business strategy. Through observance and encouragement of this Policy, we assist in protecting the environment and the overall well-being of all our stakeholders – our employees, clients, subcontractors, and communities. We take a proactive approach towards creating safe working environments for all our employees and promote continued safety education and training. We assign responsibility for all aspects of the HSE Policy, continuously review potential areas of improvement and ensure thorough evaluations of all incidents. We continue to address the environmental and health impact of our operations by reducing waste, emissions, and discharges and by using energy efficiently.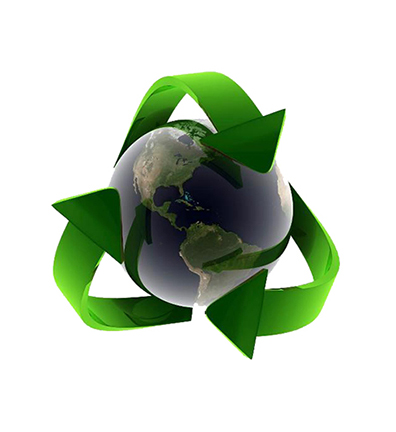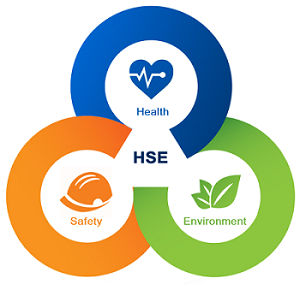 HSE Management System
Our HSE Management System strives to achieve continual improvement of HSE performance through definition of roles and responsibilities at all levels in the organisation and an efficient communication structure. This HSE Management System is consistent with our business principles, whereby we operate in accordance with instructions laid in our HSE Manual. We aim to foster an HSE performance we can be proud of, to earn the confidence of customers and society at large and to enable sustained growth and development.
Testing & Validation
Quality Check
Quality checks from Raw Material to Finished Products are done using our comprehensive range of in-house testing facilities with a dedicated machine shop for specimen preparation. Tests are conducted as per API, ASTM, ANSI/ASME, NACE, MSE and ISO 9001 Systems.
Profile Projector
Sine Bar of size 10"
Set of Telescopic Gauges
Set of Slip Gauges
Screw Gauges for Round Treads of various sizes
Micrometers
Dial Verniers
Depth & Height Gauges
Thread Pitch Micrometers
Cylindrical bore gauges
Film Thickness Measuring Instruments
API approved Master Gauges for Tubing Pup Joint
API approved Master Gauges for Sucker Rod Threads
API approved Master Gauges for Rotary Shoulder Connections
Universal testing Machine; Capacity 40 MTs
Impact Testing Machine
Fatigue Testing Machine
Equipment for testing Restoring & starting Force of Centralizers as per API 10D
Outside surface Hardness Testing Equipment for Brinell & Reckwell Hardness Testing
Inside Surface Hardness Testing Equipment for Rockwell Hardness
Electronic Surface Hardness Test Equipment
Shore Hardness Testing Equipment
Digital Surface Roughness Tester
Surface Roughness Measuring Instrument
Hydrostatic Pressure Testing Equipment (upto 25000 psi)
Hydrostatic Pressure Testing Equipment (upto 5000 psi)
Pneumatic Pressure Testing Equipment for determining Air Leakages
Torquing Equipments
Surface Crack Detection - Dye Penetration Inspection Equipment
Surface Crack Detection - Magnetic Particle Equipment (Both wet & Dry)
Ultrasonic Flaw Detector
Surface Crack Detection - Dye Penetration Inspection Equipment
Surface Crack Detection - Magnetic Particle Equipment (Both wet & Dry)
Ultrasonic Flaw Detector