Artificial Lift - Sucker Rods / Pony Rods
Compliant to API Spec 11-B, Laxmi Sucker Rods and Pony Rods are manufactured in all grades and sizes used in artificial lift operations worldwide. These Rods are designed to sustain tremendous Tensile & Compressive stresses, fatigue, vibrations and hostile environment containing acids, salts, abrasives and other contaminations.
LAXMI Sucker Rods & Pony Rods is manufactured using Modern integrated manufacturing systems under close supervision of experienced Engineers. While manufacturing these rods our Stringent Quality Management Systems ensures that the incoming material is carefully inspected for any damages, discontinuities and irregularities; tested for chemical composition & NDT before putting it in process of manufacturing.
All Laxmi Sucker Rods and Pony Rods are designed as per API 11B standards and can be classified into 5 variants depending upon their following properties.

LS-1
For light to medium loads in shallow wells to medium depth wells and non- corrosive or inhibited wells.
[(API Grade-C) Light Load less than 25,000 PSI (172 Mpa) & less than 4000 Ft shallow depth)]
LS-2
For medium to heavy load in medium to deep wells and mild corrosive or inhibited wells.
[(API Grade-K) Medium Load 25,000 PSI (172 Mpa) to 35,000 PSI (241 Mpa)]
LS-3
For heavy loads in non-corrosive or inhibited wells
[(API Grade-D) Heavy Load 35000 PSI (241 Mpa) to 42000 PSI (290 Mpa)
LS-4
For heavy load at any depth and in mild corrosive or inhibited wells. (High Strength)
LS-5
For extra heavy loads at any depth in corrosive conditions.
[(Ultra high Strength) Extra heavy Load 42,000 PSI (290 Mpa) & 7000 Ft
Laxmi - Sucker Rods / Pony Rods

---
(A) Chemical Properties

---
(B) Mechanical Propeties

---
General Dimensions and Tolerance for Laxmi Sucker Rod and Pony Rod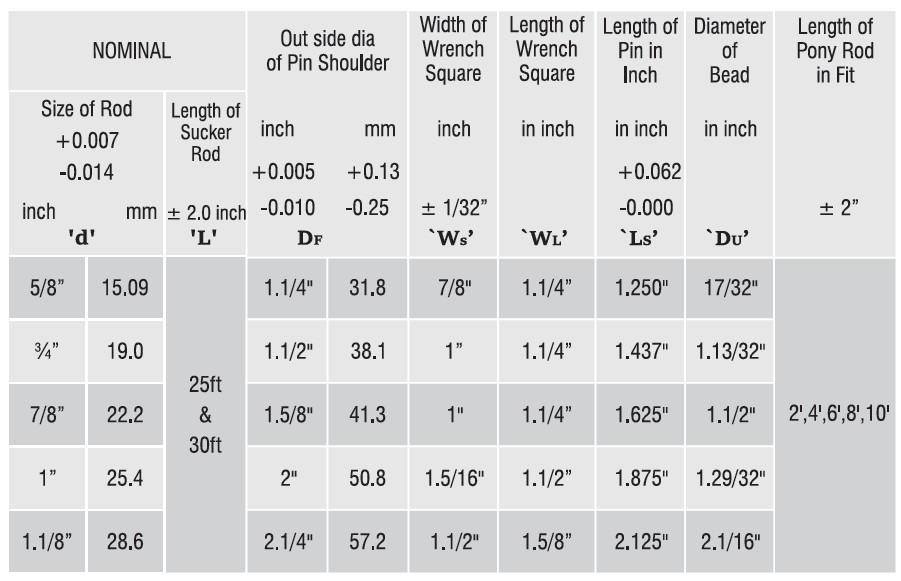 ---
Weight of Sucker Rod with a Coupling

---